Crafting a Community,
Brewing a World
If this is your first Short's Experience, Welcome!
On the surface, we might look like any other brewery. Get to know us, and you'll soon learn that brewing is just a catalyst to something bigger. We're on a mission to change the world.
Way back in 2004…
Joe Short opened the Pub in a renovated hardware store in Bellaire, Michigan (population 1,200), the heart of Antrim County, deep in rural Northern Michigan.
Soon after, Leah joined the team. She and Joe fell in love, and while following their favorite band created our Ween-inspired menu. Since then, The Pub has grown to include five storefronts (including our own store and private dining space, The South End) and during the summer season, we've been known to crank out 800 pizzas a day.
You may ask yourself
how did we get here?
In the beginning, Joe Short, our Founder and Creative Mastermind, established our brewery as creatively fearless
No ingredient was too weird. Tomatoes, licorice, spruce tips—dig thru our portfolio and you'll find just about every edible thing under the sun in our beers. He also let folks know he came to party with festival experiences including ice blocks from Torch Lake, flame throwers, costumes and stunts.
we
grew &
grew
Because of this fearless spirit
In 2009, we opened
in Elk Rapids
Demand exceeded the limits of the Pub brewery, so we took a big step.
We opened our production facility in Elk Rapids, MI (fun fact, our two locations are connected by the Chain of Lakes, including Torch Lake, the third most beautiful lake in the world, according to Nat Geo) and started sending packaged beer across the state.
We're now one of the largest craft breweries in Michigan and more importantly, we employ around 175 people year round.
In 2016, we got a little help from our friends
Lagunitas picks up a 19% share. Out-of-state distribution begins!
And in 2017 we opened up a lot
As in a parking lot. At our Elk Rapids plant where folks could drink & hang.
2020.
COVID strikes
We adapted and evolved and kept our
full team employed.
In 2021 the Pull Barn opened year round
The folks in Elk Rapids got 365-day access to the freshest Short's Brews on the planet (and indoor bathrooms, IYKYK).
2023 and onward
From natural resource protection to outdoor recreation to equity initiatives, we are proud supporters of community development.
Downtown Bellaire is a testament to our tenacity, with bustling streets and full storefronts. We are passionate people making the world more awesomer thru our products of passion, but we've still got a long ways to go.
Our Mission
Leverage the Power of Smallness to help good humans lead awesome lives thru our products of passion, and leave the world better than we found it.
Create exceptional experiences
From the Pub to the Pull Barn, fests to events, down to the can in your hand. We want to share the Short's experience of mind-blowing awesomeness with everyone who finds us. Life is Short's, after all.
Embrace smallness
We are small, but we are mighty—we call this the Power of Smallness. Connected to our Northern Michigan roots and dedicated to our people, we are a mom & pop operation at our core that cares for our communities and the Good Humans in them.
Focus on variety and flavor
We care so hard about what we do and the Products of Passion we make. We want every sip (or perfect bite) to be awesome. Not every beer, cider, pizza, or sandwich is for every person but we always have something for everyone.
Grow with our community
We're about more than beer. We actively fund trail development, equity movements, natural resource protection and access, and are currently working to address the housing crisis in our backyard.
Love where we live, love what we do
When we're not working, we're outside enjoying the incredible landscape of our home in the real "Up North". Biking, kayaking, trail running, snowshoeing, boating, skiing, swimming, fishing, foraging—you name it, we're probably outside doing it right now.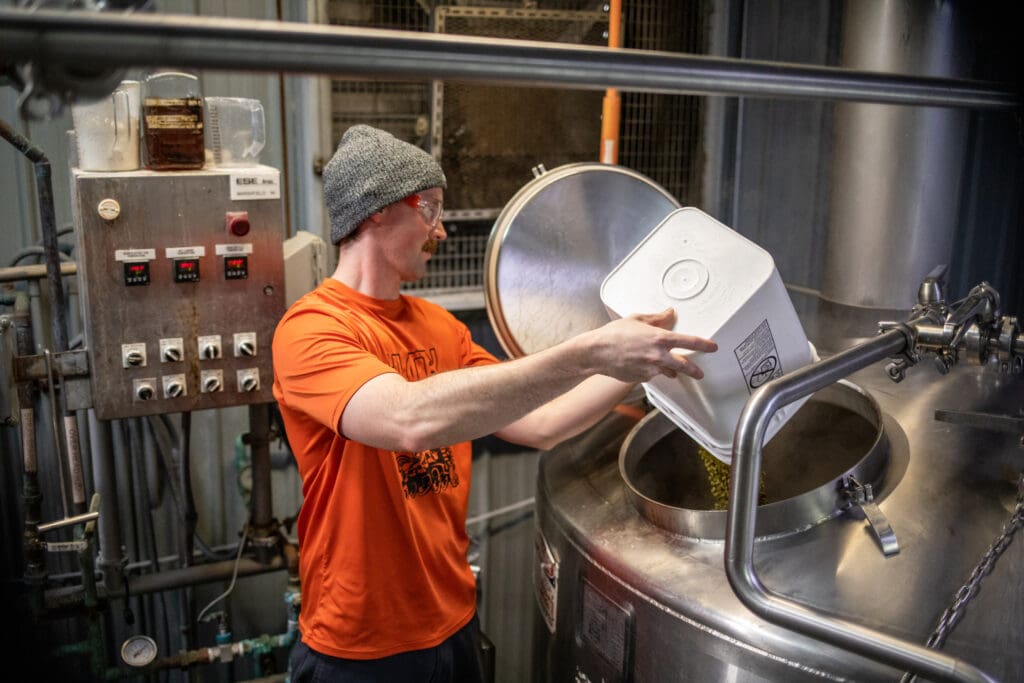 Love what you do? Love where you live?
If you answered anything other than yes, check out our careers page, we've been waiting for you.